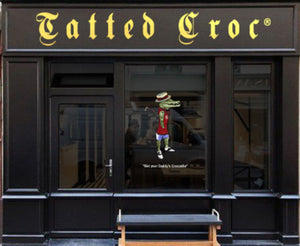 "NOT YOUR DADDY'S CROCODILE"
We all wear Tattoo's, some of us just don't wear the Ink. Tattoos are a mark of the 21st century and few expressions of individuality are more telling than a tattoo. At Paris Walker lll, we chose 'Dap' (Dapper) the Croc born in Hilton Head Island and grew up in Augusta, Georgia (Home of the Masters GolfTournament) because he represents the PREPared Culture.
The Tatted Croc insignia is a Trademark (tattoo) of individual expression for The PREPared Culture regardless of your last name, ranking or pedigree.
Tatted Croc is the Status Symbol of those who believe that they can be themselves and enjoy the "Good Life" without judging anyone or be judged.
THE PREPared Culture
Welcome to the Tatted Croc Country Club, the home of Untraditional Classics for those that love tradition and honor individuality
TATTED GOLFER
Our polo shirts are perfect for golfing and casual outings. Ask Our Italian Golf Pro
SPORTSMAN
Cool, durable Untraditinal Classics on and off the tennis court.
CLASSIC MAN
The Classic signature knit polo says it all. Untraditional unlike any other.